A small introduction
What is FPV? FPV means First Person View. We call it this way because our (usually multirotors) are equipped with a tiny camera which sends video realtime to our goggles or monitor showing us a cockpit view of our aircraft. This view gives you the idea you truly are the pilot of the craft. This view usually is a really low resolution because it's sent via analog signals. Because of this most pilots put a high definition camera on their aircrafts to film their flights in high quality.
Now FPV is quite a interesting hobby and it might be quite dawnting to get started with all the various parts you can use. And that's why I wrote this article! To learn you the ropes and to tell you what gear might suit you the best. There's a certain set of items you will need. Here's a small list:
Out of each of those category ( with a few exceptions ) I will list three options which fit in three categories; cheapest worth having, best bang for the buck and  top of the line. Please keep in mind that prices might vary as time goes by. I'll try to keep this list up to date, but please notify me if any information is wrong.
* Some of the links below are affiliate links. That means that whenever you buy one of those items, I get a small piece of the earnings from that website. Because of that, I would appreciate it if you buy the items you are interested in via my links. It won't affect the price for you in any negative way.
** This list might change from time to time as time passes by. That is because my preferences might change whenever something new comes out. If you think I should include or exclude something from this list, then I'd like to hear from you what item that is together with the reasoning behind that.
To conrol your multirotor you need two main things, and a compatible receiver. The receiver is a tiny device which sits inside the drone. This little device listens to what signals the transmitter sends it in order to move your drone according to the commands you give it. Theres various tastes and types of these. Here's a small list of a few good options. Remember that there are more choices than the ones I've put on this list. These are just the ones which I think are most relevant right now.
Cheapest worth having: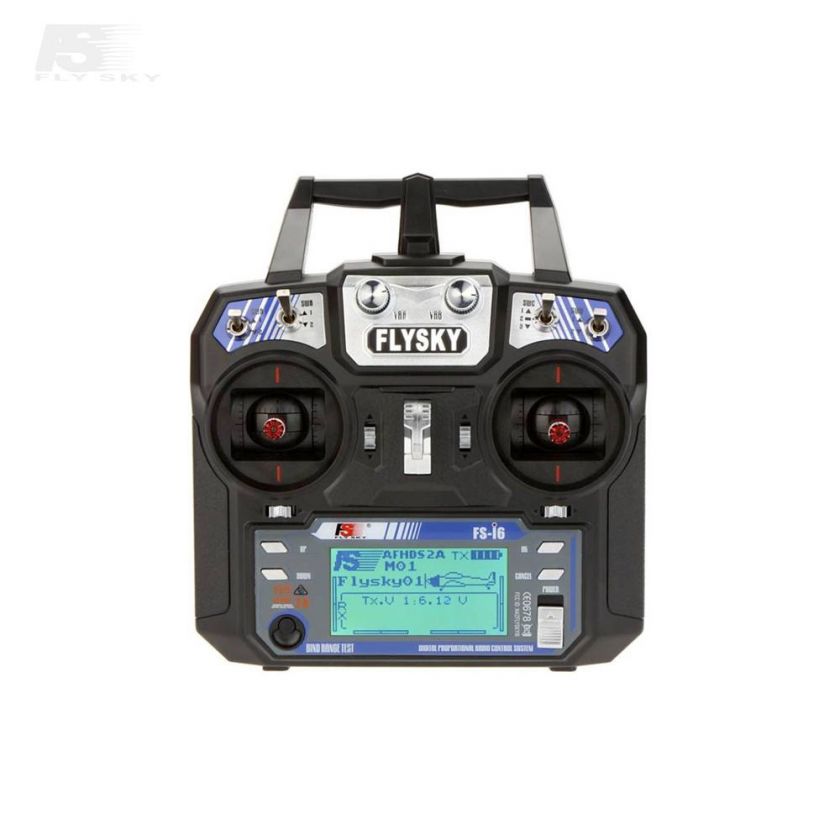 FlySky FS-I6 , this transmitter operates at the 2.4Ghz frequency and has six channels. Four of those channels are used for throttle, aileron, roll and yaw. This means that you have got two auxiliary channels which can be used for various settings like setting the flight modus and arming the quadcopter. This transmitter comes in cheapest with a price which ranges from 40 to 50 dollars when new. I have seen and felt this transmitter a few times and I found it felt kind of cheap. But we cannot expect a whole lot in this price range ofcourse. This transmitter has no option to install a JR module ( without modifications ).
Get it here
Best bang for the buck: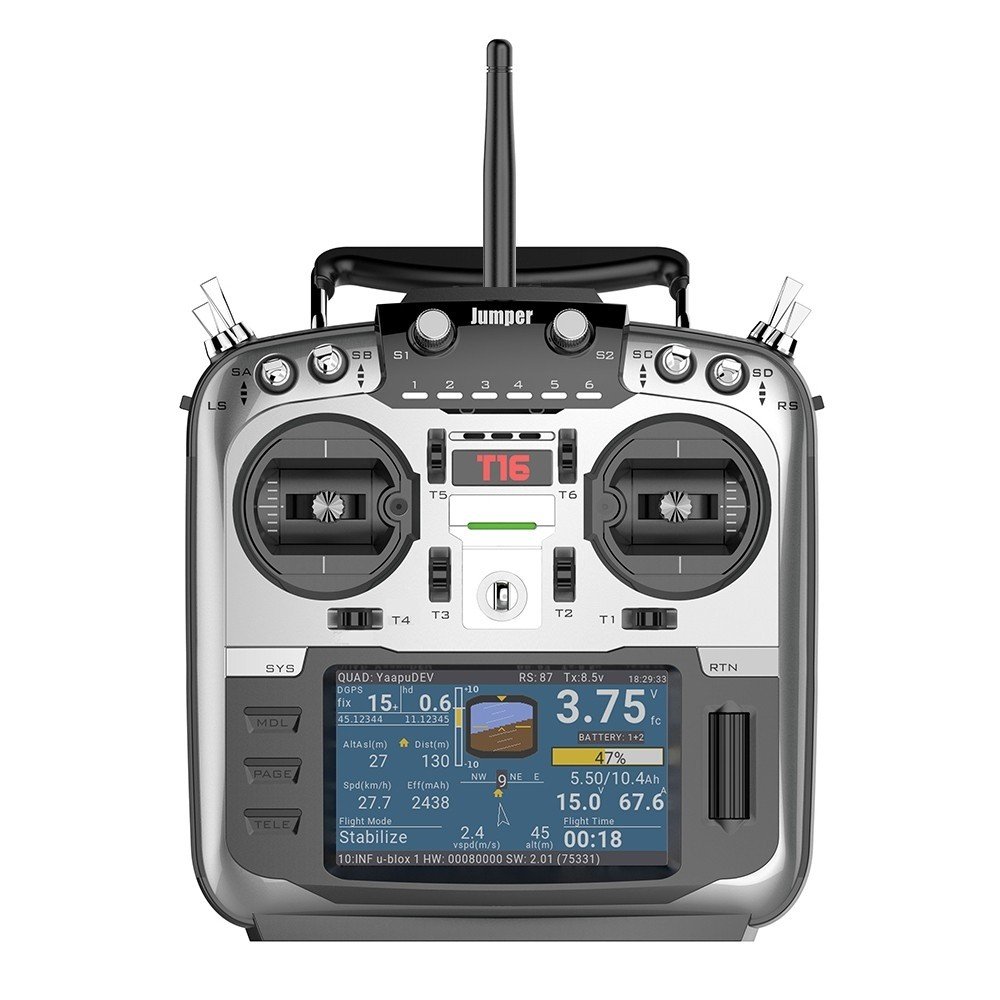 Jumper T16 Pro , This transmitter comes with a multi-protocol module which works with a whole range of receivers from various brands including FlySky, FrSky, Futuba and Spektrum. And if required you can swap this module out for a long range module like the Crossfire micro or FrSky R9M. It's a sixteen channel transmitter allowing you to go totally crazy on customization of used channels as you got twelve auxiliary channels. Another feature is it's nice LCD screen and hall gimbals. This transmitter comes in at 159.95 dollars
Get it here
Top of the line:

TBS Tango 2 , The Tango 2 is a controller style transmitter which runs Team Black Sheep's forked version of OpenTx. It run's CrossFire out of the box up to 250mW. This should give you plenty of range. It has hall sensors and has nice specificly designed switches to last longer than the regular switches used on transmitters. The Pro edition even has foldable sticks, but in my opinion the extra price is not worth just that feature. The Tango 2 comes in at 159,95 dollars.
Get it here
Extra: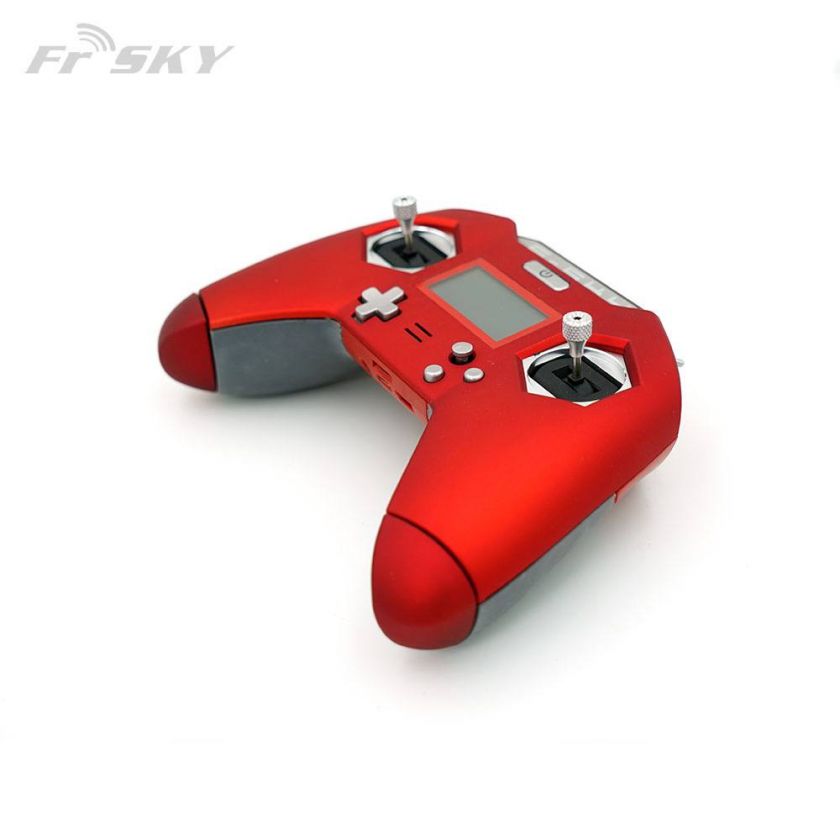 FrSky X-Lite , the X-lite is a gamepad style transmitter which might fit you perfectly if you have a gaming history. It's formfactor is a lot like the XBOX controllers. It runs OpenTX and has a inbuilt FrSky XJT module. This means  that it's compatible with a big range of FrSky receivers. Like the Tango and Jumper this transmitter is equipped with Hall effect sensors. It also has the option to attach a JR (mini) module, or a fullsize JR module with the use of a 3d printed bracket. The X-lite is currently for the grabs for a price around 121,99 dollars.
Get it here
Goggles are the pheriperals we use to show the live video feed from our quadcopters. They are available in a wide variety with various specifics. But I'm fairly sure something from this list will fit your needs. I'm only going to list analog goggles as the only choice available for digital video is DJI's system ( as of now ).
Cheapest worth having:
Eachine EV800D , this is a box goggle meaning that it has one big display rather than two smaller ones for each eye. It has a mediocre diversity receiver and comes with one clover and one patch antenna.
The screen is detachable, and it has a mounting option on the bottom to attach it to a camera stand. With a price tag of around 80 dollars this is a perfect goggle to start with.
Get it here!
Best bang for the buck: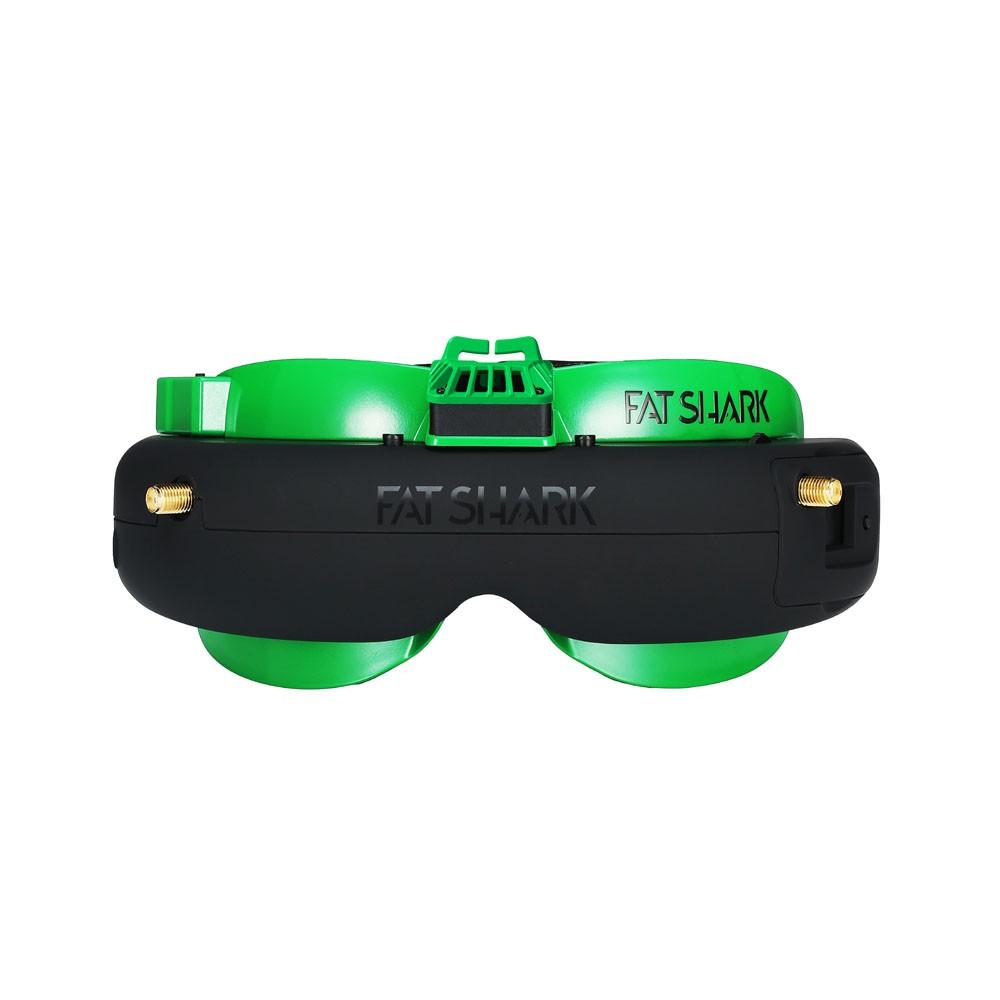 Fatshark Attitude V5 , Fatshark is well known for being one of the biggest brands who produces a few of the best FPV goggles. This is a goggle with a 42° FOV. It has the capability to record DVR on a SD card up to 32GB. It comes with a fatshark video receiver, but this goggle works fine with any of the high performance modules like the ImmersionRC Rapidfire.
Get it here!
Top of the line: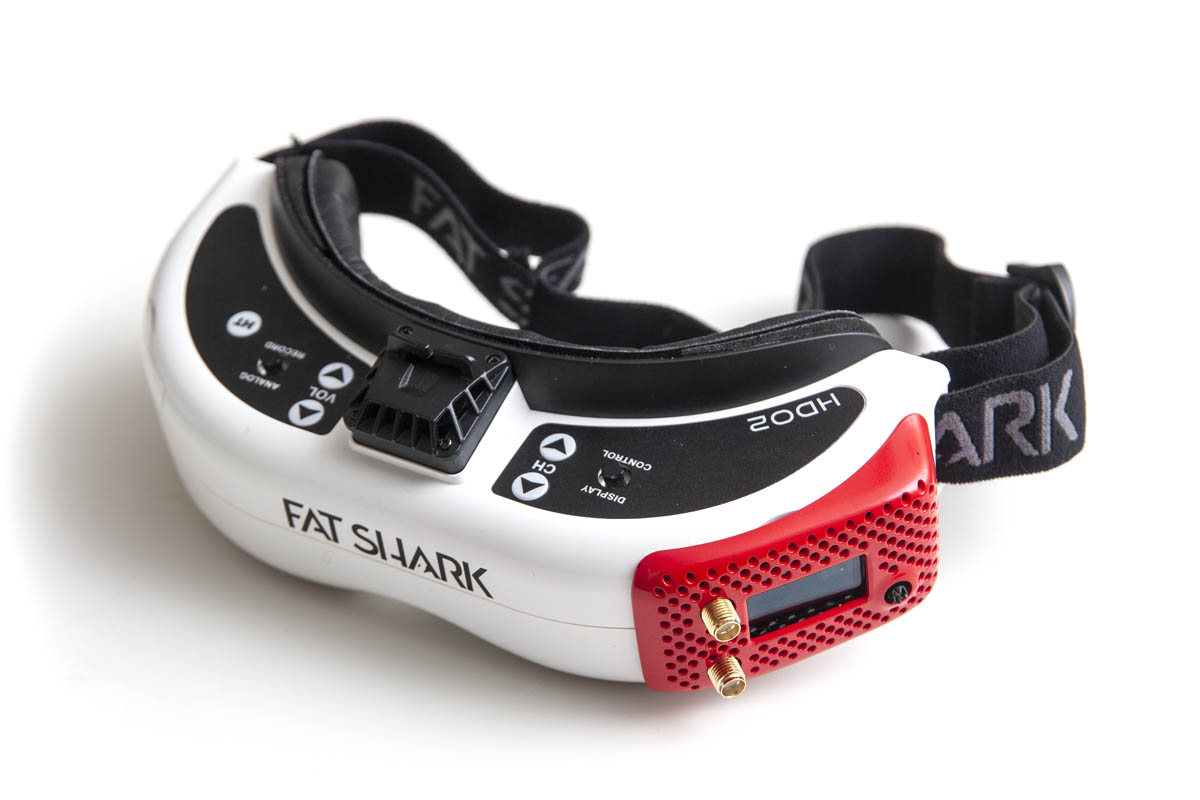 Fatshark HDO2 + ImmersionRC Rapidfire / TBS Fusion , This is the Attitude's big brother. The HDO2 gets delivered without any module. I'd recommend getting either the Rapidfire or the Fusion for this. The goggle has a 1280 x 960 OLED screen and a configurable IPD and focus.
Get it here!
Digital: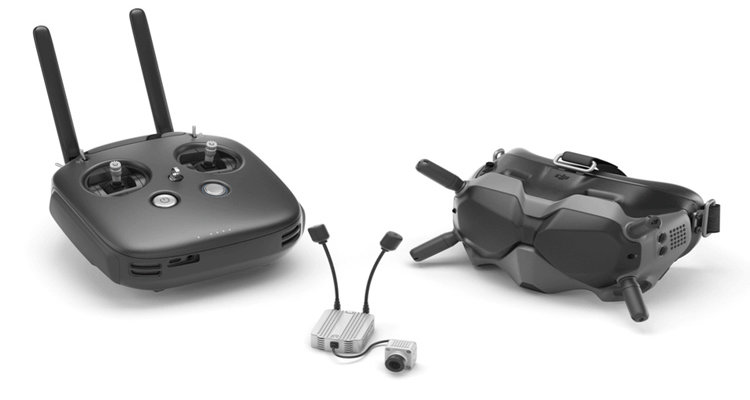 DJI digital FPV , I didn't want to fit this one in the top of the line on it's own. My reasoning behind it is that I think digital FPV as we know it is not yet how it fully should be. There's some limitations about this system that I do not like. But I'm fairly sure DJI will iron these out in the near future. The nice thing about DJI is that it uses it's own air unit which is also capable of being used as a receiver when paired with the DJI transmitter. The not so nice part about this goggle is that it won't work with regular VTX'es and that you are forced to buy either DJI air units, or the Caddx Vista. As we speak there are no other manufacturers licenced to build DJI compatible VTX'es. That last hiccup is my reasoning for listing analogue more exensively.
LiPo is a shorthand for Lithium Polymer. The batteries we use to fly are using LiPo chemistry to function. This category is pretty subjective. It all depends on what kind of motors and props you run to determine the perfect battery. Therefore I'm going to state some brands I'd recommend. But I'm going to state these differently than other parts because the prices vary from battery to battery. A list of brands I'd recommend are:
It differs from seller to seller, but overall the prices are pretty much the same.
We need chargers to fill our batteries with juice. Without them, we won't fly very far.
Cheapest worth having: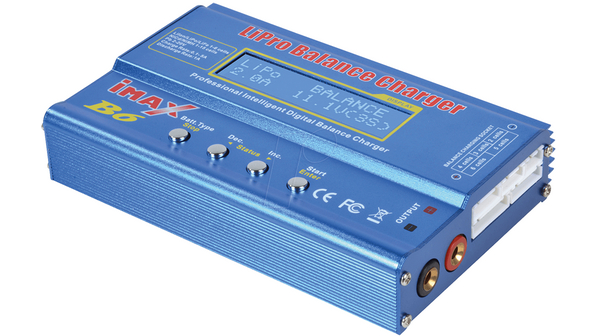 Imax B6 , This charger can charge at a maximum of 5 amps. That's not a whole lot so this charger might not be the best choice if you are going to parallel charge your batteries. But at a price of 22 dollars this might be a good charger to start with.
A little word of advice here: This charger is a device that is often cloned. If you buy it from somewhere else make sure you didn't select a cloned version. I'm warning you for this as these are often of lower quality and because they don't comply to the safety rules that come with electronics.
Get it here!
Best bang for the buck: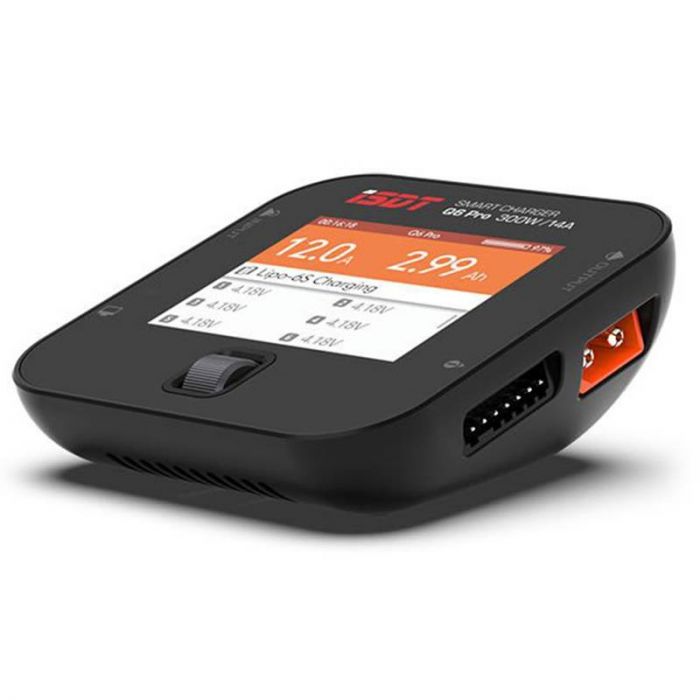 IDST Q6 Pro , This charger pushes out 14 amps which gives you some room for parallel charging. It has a nice LCD display which has a few nice features which make checking the status of your LiPo's a breeze. This charger takes 7-32v DC (2-8S) as input which you can connect via a XT60 connector.
Get it here!
Top of the line: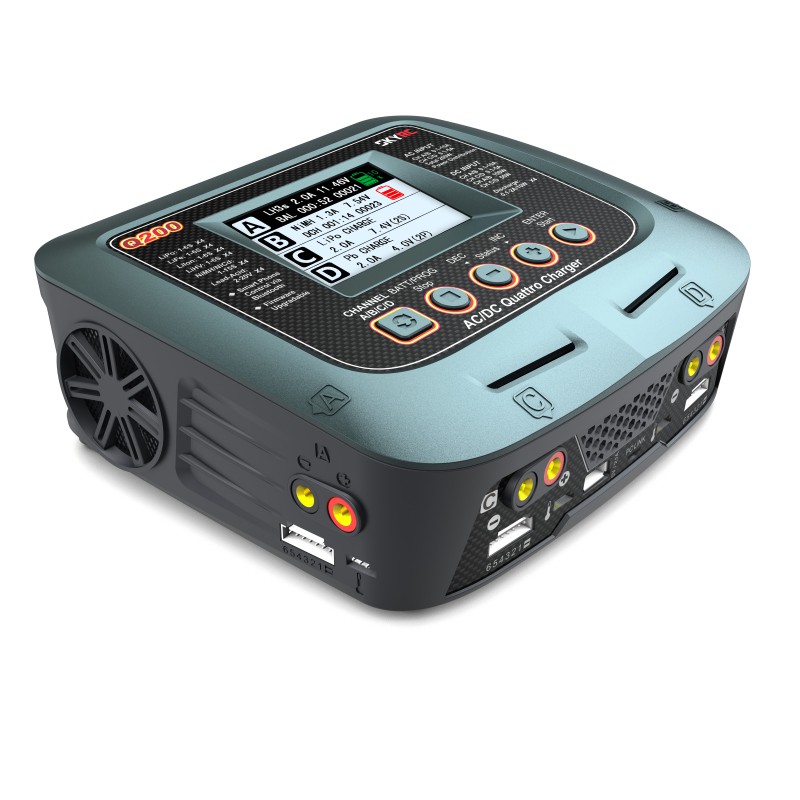 SkyRC Q200 QUATTRO , This charger has 4 dedicated outputs which are all serperately programmable. This means that you can example different types of batteries at the same time! Another good feature of this charger is that it takes either 100-220v AC or 11 - 18v DC as an input.
Get it here!
In order to be prepared to fix your quadcopters you will need a certain set of tools. This again, is not really a list of items in the budget, average, top tier model I've shown before. I've just made up a small list of everyday tools I use to keep me in the air. Apart from my list there's most likely loads more stuff which can be useful in the field.
TS100 soldering iron , This little fella has saved my flying day for more than once. It works fine with the same batteries we use to fly, giving us the abiility to solder while we are in the field.
Get it here!
Hex screwdriver kit , This one explains itselve. Whenever your standoff screws get loose you will need to tighten them. This kit has the right sizes for all the screws our quadcopters are built with.
Get it here!
A old toothbrush , That's right. Old toothbrushes are awesome for cleaning out your motor bells when you have crashed into the dirt. I'm not going to post a link on here as I'm pretty sure you will already have one ;)
You made it this far into my article, now we are finaly here! Let's talk about quadcopters. These are the things you need in order do those nice flippety floppeties like Mr. Steel does! Below is a list with a few options that I would consider if I started now. Again, for this category there's alot more choice than the ones listed below. But in my opinion these are great as a starting reference.
Cheapest worth having:
Emax Tinyhawk II , This quadcopter is the smallest of my selection. With a propsize of 75 millimeter this guy fits in the micro class. It can be flown with 1-2S batteries. With 1S this quad flies nicely indoors. With 2S this quad is quite fast and best flown outdoors in little parks or playgrounds. This package comes in at about 111 dollars, and includes one 1S LiPo and one 2S LiPo
Get it here!
Best bang for the buck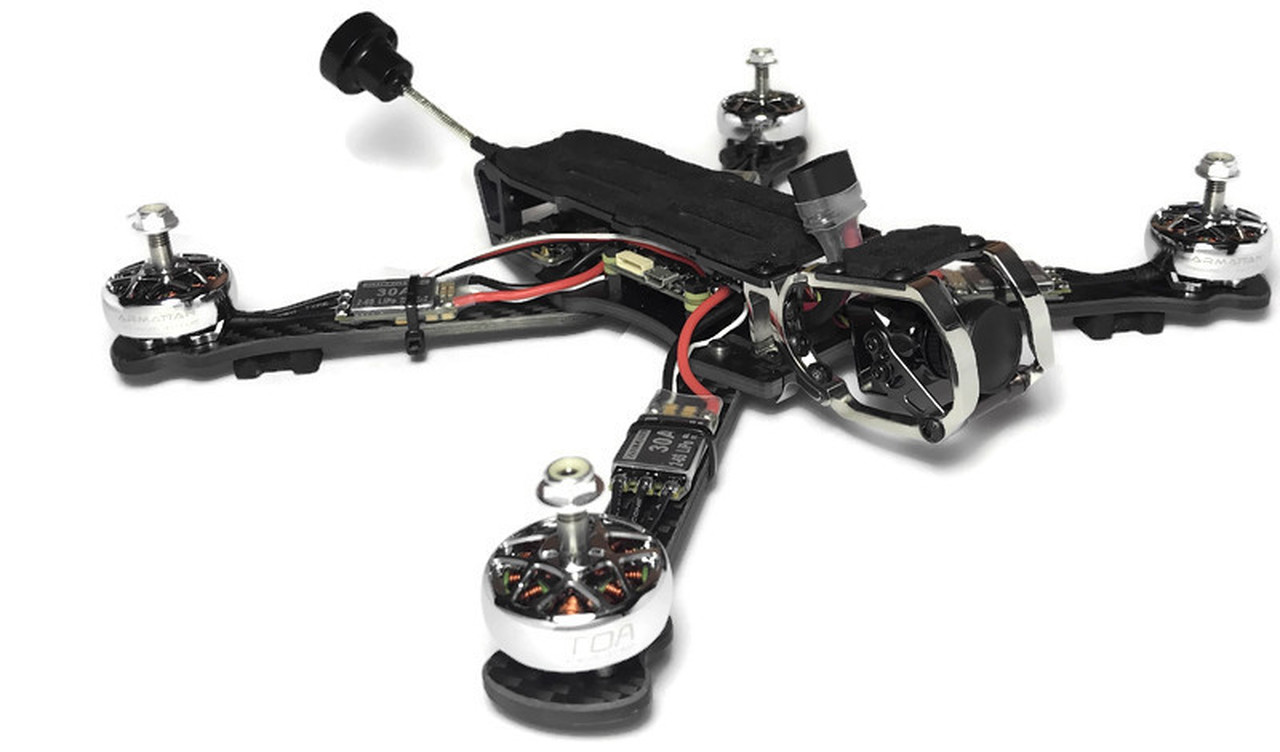 Armattan Badger / Marmotte BNF , Armattan has solid frames. And in my opinion they choose just the right components to make their quads fly really smooth, even with stock Betaflight settings. These quads get sold in two configurations, the ones that fly best at 5S, and the ones that fly best at 6S batteries. This quad might feel like a step up in price compared to the TinyHawk, but keep in mind that it's quality is a step up aswell! And that you have got lifetime warranty on everything except it's electronics. No matter how hard you smash it in a wall, Armattan has got you covered!
Get it here! (5s) Get it here! (6s)
Top of the line:
Self built , I have put self built as top of the line, even if this can be cheaper than the Badger/Marmotte because by building your quad yourselve you are the one making the right choices to ensure you get the components that fit your needs best. It opens up a whole lot more of possibilities and specific applications to use your quad for. You can go for a 7-10Inch quad which you use for long range, or a 2.5/3 inch one if you want to fly in small places like you could do with the Tinyhawk.
Alright, you made it this far! I hope you found the gear you need. Now we need a bag to store all this valuable stuff in to transport it safely to flying spots. Here's a small list of bags I would recommend.
Cheapest worth having: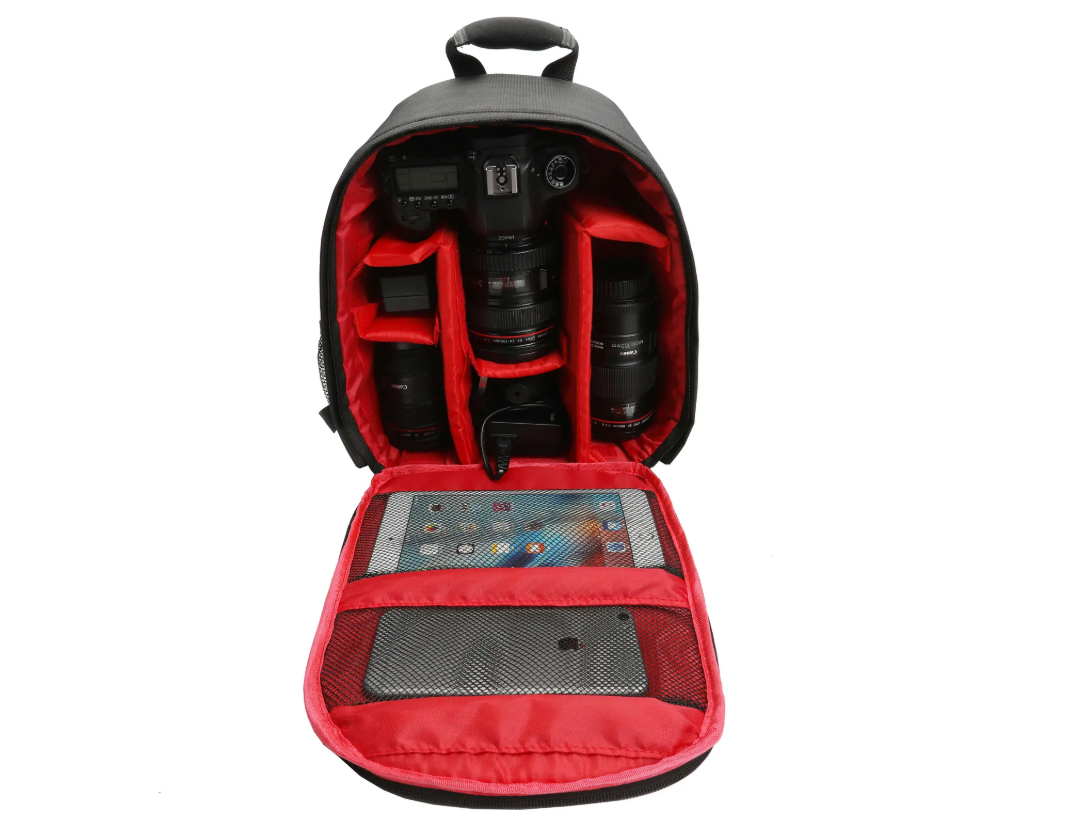 Unnamed camera backpack , This backpack comes with a few dividers which you can relocate using velcro. Because of this modularity you can completely customize this bag to your likings, which also should make it pretty good for carrying quadcopters and LiPo's around. This bag comes in at about 16 dollars. Because of this I need to say this, don't expect too much of this bag ;)
Get it here!
Best bang for the buck: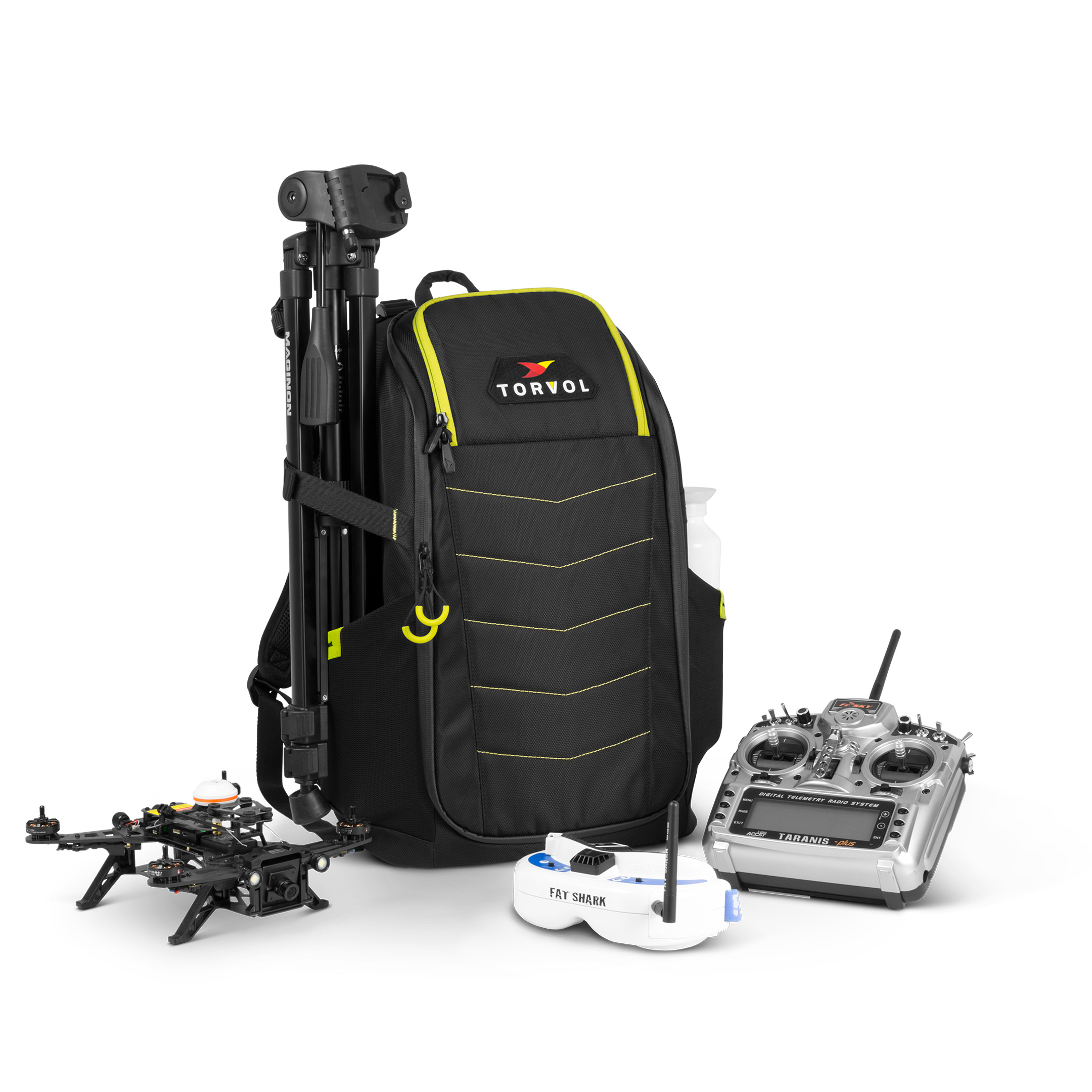 Torvol Pitstop , I'm going to put the pitstop in the best bang for the buck because I didn't know which one I should give the title to be the top of the line, But honestly, this bag deserves that spot too! It has a few really nice features. One of them being the included magnetic tray for holding your screws when you are doing in-field repairs. It also features a mat to keep your knees and quadcopter clean when you are on muddy terrain. It sets you back for about 99 dollars at the official Torvol webstore.
Get it here!
Top of the line: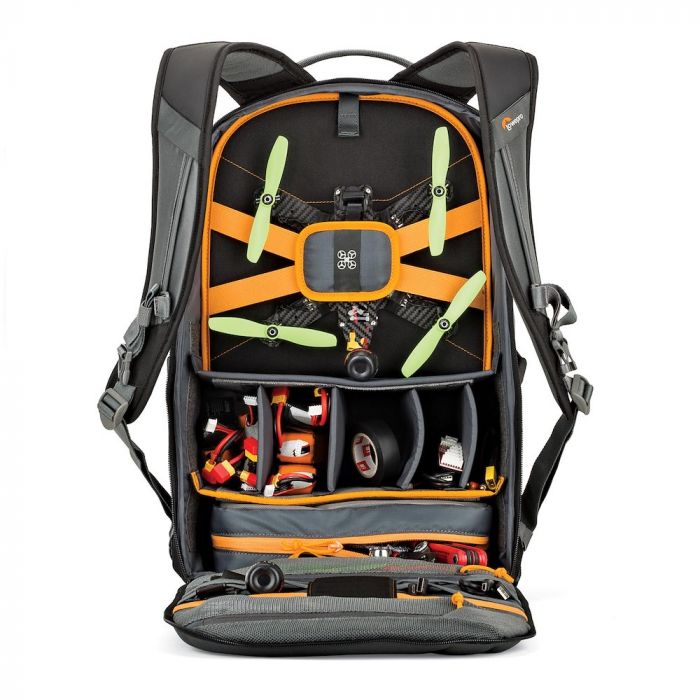 LowePro Quadguard BP-X2 , This bag is my personal favorite, and the one I currently use. It has loads of pockets to fit all the tools you will need in the field. You can fit two ( 5" ) quadcopters on the back, which you can attach using the special straps that are supplied with the bag. The internal dividers are also, like previous bags reconfigurable to give you the ultimate costomization you need. The price tag is quite hefty at about 149 dollars. But in my opinion that's well worth it!
Get it here!
Thank you!
Woah, you have made it all the way to the end of this article! I'd like to thank you for reading through my article. Alot of the choices above are personal choices. That means that another person might tell you to buy something completely different and there is nothing wrong with that. What I'm trying to say is, find the gear that fits your needs the most. In this hobby we are experiencing alot of hype about the newest hardware, but those hypes don't allways turn out to be actual good products. Anyways, I hope I have helped you to get a better understanding of the items you will need to start your FPV journey. And as always, Feel free to post your questions down below if you are still stuck on something!

~ MadMikeFPV